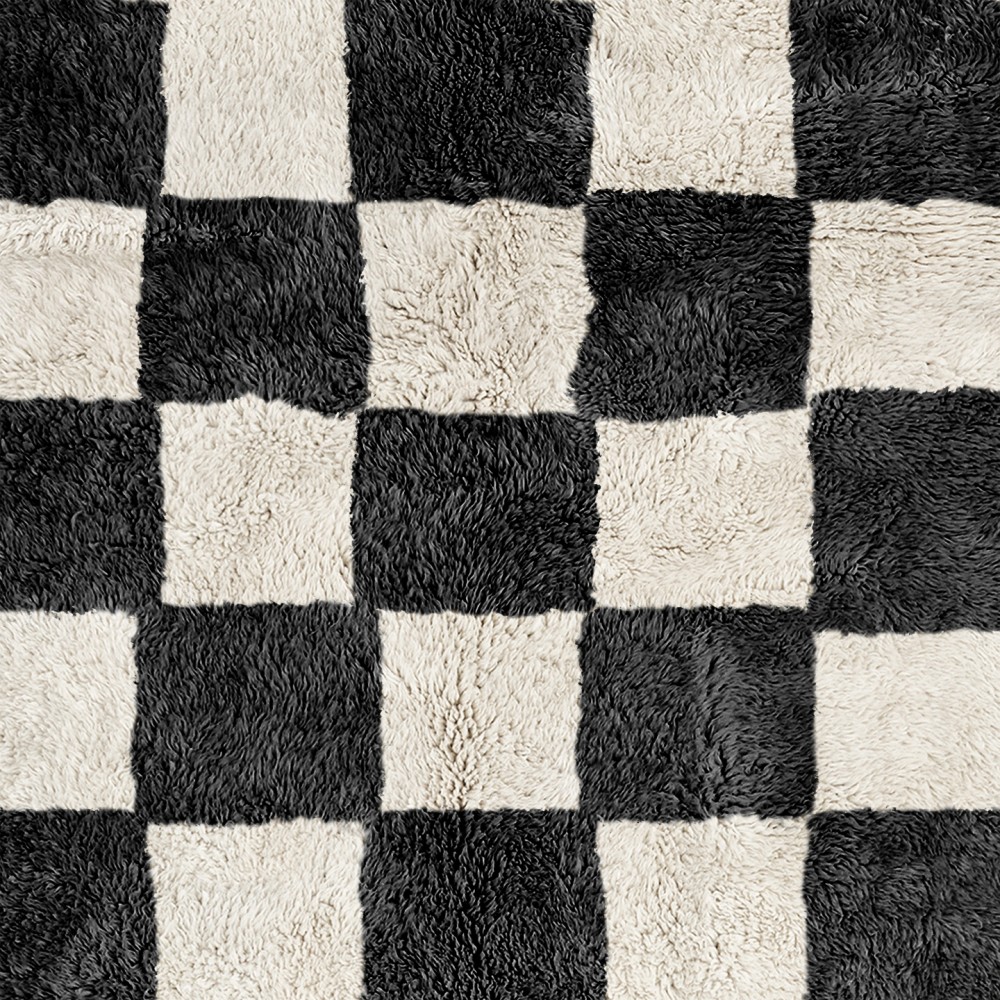 What makes Moroccan Berber designs and compositions so magical is that they're based on the stories narrated by the gifted women weavers who weave the story of their lives into the rugs, and our newest checkered collection illustrates all of the latter. Expect pieces of perfectionism that thrive on behalf of imperfection.

First and foremost, we want to celebrate and honor the artistry of Beni Ourain's female weavers, who individually make each Moroccan rug by hand in a fraction of small studios outside of Marrakesh. There's an ethical mission behind our rug shop, which pays these female weavers a living wage to ensure they have a viable career path and mostly an artistic one. We also want to promote and preserve the 10,000-year-old weaving tradition.

Perhaps you may recognize the classic black-and-white checkered pattern or the attention-grabbing checks. Both references prove how sophisticated and polished the pattern can be, but we tried making our versions feel a little bit more at ease and carefree, embodying the spirit of the free Berber. Further, most of these checked rugs serve as perfect examples of the Berber pattern's weaving evolution. You can see the classic checkers take multiple forms and colors, and each one of the gridlike pieces evokes an optimistic sense of joy—something we all can use right now.

"Slight irregularities are not only expected but embraced. That's what makes the process so beautiful, so magical, and everything revolves around pointing to this idea of imperfection and the touch of the hand and not being perfect and symmetrical,"
Inspired by the renowned checkered patterns and Luis Barragán's poetic use of colors, our newest line of checkered rugs explores the idea of having a rhythm and harmony then, breaking it. One rug, for example, has a frame of symmetrical squares. Another has two opposing, differently shaped checkerboards, while a third is adorned in oh-so-slightly off-kilter rows of irregular squares. Every design can be made to order in different color schemes: think copper browns, taupes, turquoises, and, in one case, even velvet. Prices start at just over 190 dollars for a two-by-three-foot rug with free shipping guaranteed and a 50% discount.


Our spring collections are usually speckled with smooth abstracts and compositions, but this year is a year like no other in many ways, and the checkerboard design (yes, like the board game) is claiming its title as one of this season's standout rug patterns. If you're looking for ways to sprinkle a bit of charm into your living or working interior, a checkerboard Moroccan rug will certainly get the job done. And lucky for you, there are 11 delightful options to shop just ahead.