An off-white rug adds a touch of refinement and sophistication to any decor, from pearl to ivory. These rugs are available in a variety of colors and may provide subtle elegance, outdoor roughness, or strong statements on your floor. Timeless beige rugs, ivory rugs, tan rugs, and off-white rugs adorn your space and serve as the ideal basis for your bedroom, bathroom, or front door. An off-white rug may be used to mix neutrals into your decor or to create a statement to set the tone for your design.

Off-white rugs can be natural whites (the natural color of sheep wool), or they might be slightly browner. These rugs might be as ivory as your piano keys or as tanned as you are after a beach trip. These hues and textures, especially in all-natural rugs, contribute to the appearance of a home that is ready to be lived in. Unlike pure white colors, which may appear excessively cold if you're worried about stains, these vivid variants soften and increase the coziness of your space.

Complement a Natural Look With an Off-White Rug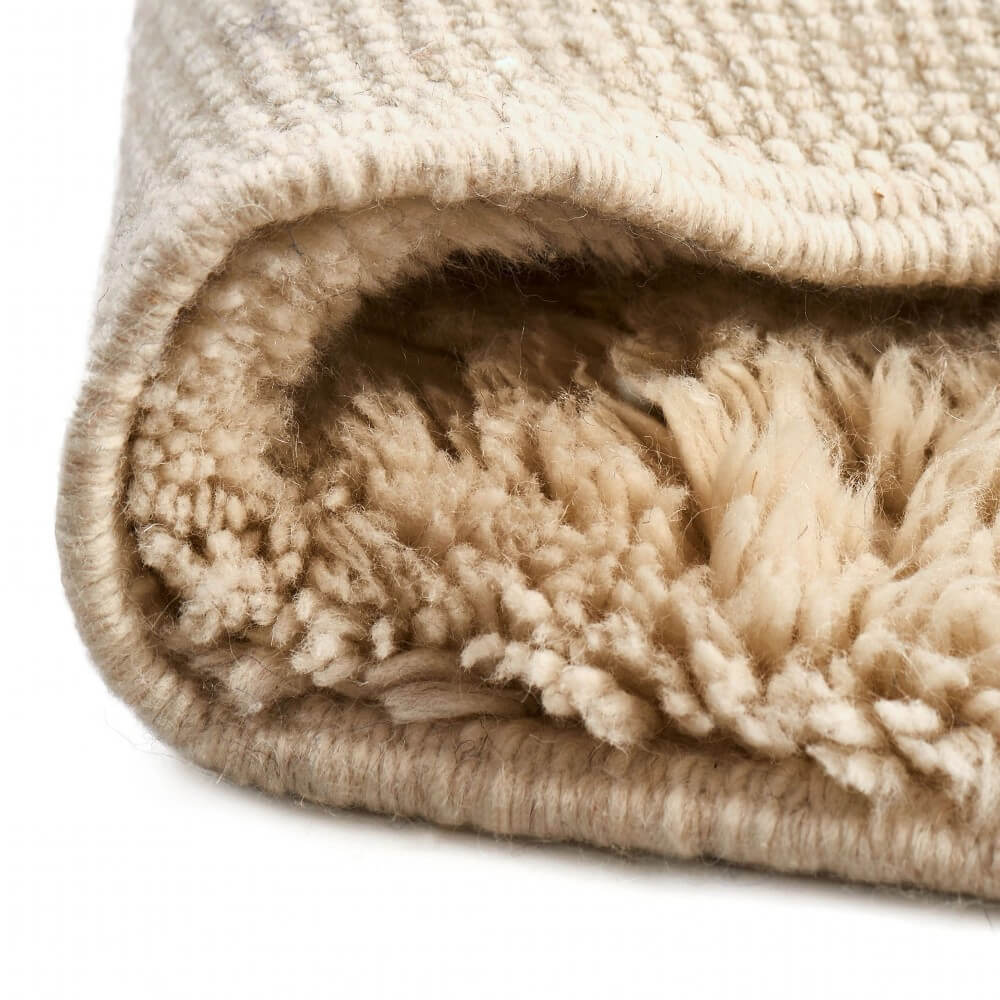 Natural hues, organic materials, and a healthy splash of shag texture help bring a screened-in porch, a seaside-themed bathroom, or a kitchen where wonderful, healthful foods are prepared. These all-natural materials may provide your space with the comfy, one-of-a-kind feel you want in off-white rugs, beige rugs, and tan rugs.

Wool rugs: Wool is an all-natural off-white fiber that comes in a number of textures, including fluffy and piled, braided, and a flatweave that melts into the floor. Wool rugs in off-white, beige, and tan, like a bulky Irish sweater knit with love, may hold all the warmth from your fireplace on a chilly winter's night or dress up a cocktail party you're having in your dining room. In your own home, try this Textured Area Rug in ivory.

Sheepskin rugs: There's nothing wrong with embracing a sheepskin rug's lovely, natural shag and fluff. Dress up your wardrobe or dressing room, place one in front of your bed, or surprise guests at the front entrance with an off-white sheepskin. All that is required to complete the pastoral ambiance are the rolling green hills.

Experiment with an Off-White Rug to Highlight that Vintage Feel

You don't have to be a bookworm or an antique collector to appreciate the yellowed pages of an old book, the regal scent of a hallowed library, or the marble sculptures of a bygone era at an art gallery. Even if you don't have a bohemian design in your living room or dining room, vintage-style off-white rugs and beige rugs will help you bring a tiny piece of that wonder and amazement home.

Tan and beige rugs emphasize the beauty of vintage furniture, the craftsmanship of older works of art, and the colors in a fading scheme. Vintage woods are deeper in color and inspire ideas of handmade rugs. The subdued tones in these off-white and brown colors complement the antique setting you've created.

Unroll a vintage-styled rug like this Simply Vintage Area Rug in beige to gather inspiration from the past and create a historic, lived-in ambiance without breaking the bank.

Adorn Your Modern Interior with an Ivory Rug

Ivory rugs are frequently used as statement pieces in modern spaces, whether they are paired with a black baby grand piano, laid over a rich mahogany floor, or layered with a wine red rug. Elevate your home office with an ivory rug to increase your confidence on Zoom calls, or design a regal bedroom for yourself or visitors. You'll bring all the elegance.

In a modern setting, ivory rugs add a basic, abstract expression to the space, emphasizing the smooth curves and distinctive pattern. Ivory rugs serve as a blank canvas for contemporary design, allowing creativity to take root and develop. To make the most of these off-white rug colors, a statement is a must.

Find Your Off-White Rug Shade at Babakech

Babakech has hundreds of types to select from, whether you want an old-fashioned style rug that fits like an antique piece in your room or an all-natural tan or ivory rug that spruces up your living room floor. Here you may choose the ideal off-white rug for your home.