The color black is essential in the design of any room. It can be an accent to bring out a vibrant color, an outline to show off a beautiful pattern, or its own statement piece. Black Moroccan rugs are functional in the home, but they can also be a stylish choice that sets the tone for the rest of the room.

Many stains are well hidden by black area rugs. They go well with other black, grey, white, and literally every other color on your palette. However, they frequently have a hidden complexity that can add new textures, patterns, and depth to your room, regardless of the size.

Because black is one of the most versatile styles available, putting a black Moroccan rug on your floor makes sense. A black rug can play a variety of roles in your home. Here are some ideas for how to use a black rug from Babakech Rugs!

Back to Black: The Most Elegant Rug Color

A black Moroccan rug can complement the gold chandelier you've hung from the ceiling in the dining room if you want to create a traditional space that relies on classic themes. Roll one out beneath your cedar dining room table to highlight the table's and chairs' beautiful lines. Have you put up white drapes in the living room? Compare them to a black Berber rug.

If you work from home, dress up your Zoom calls with a black boho rug that demands to be taken seriously. Yes, it hides your coffee stains, but it also makes you look professional and ready for business. You'll be inspired to dress up for work if your office is all dressed up.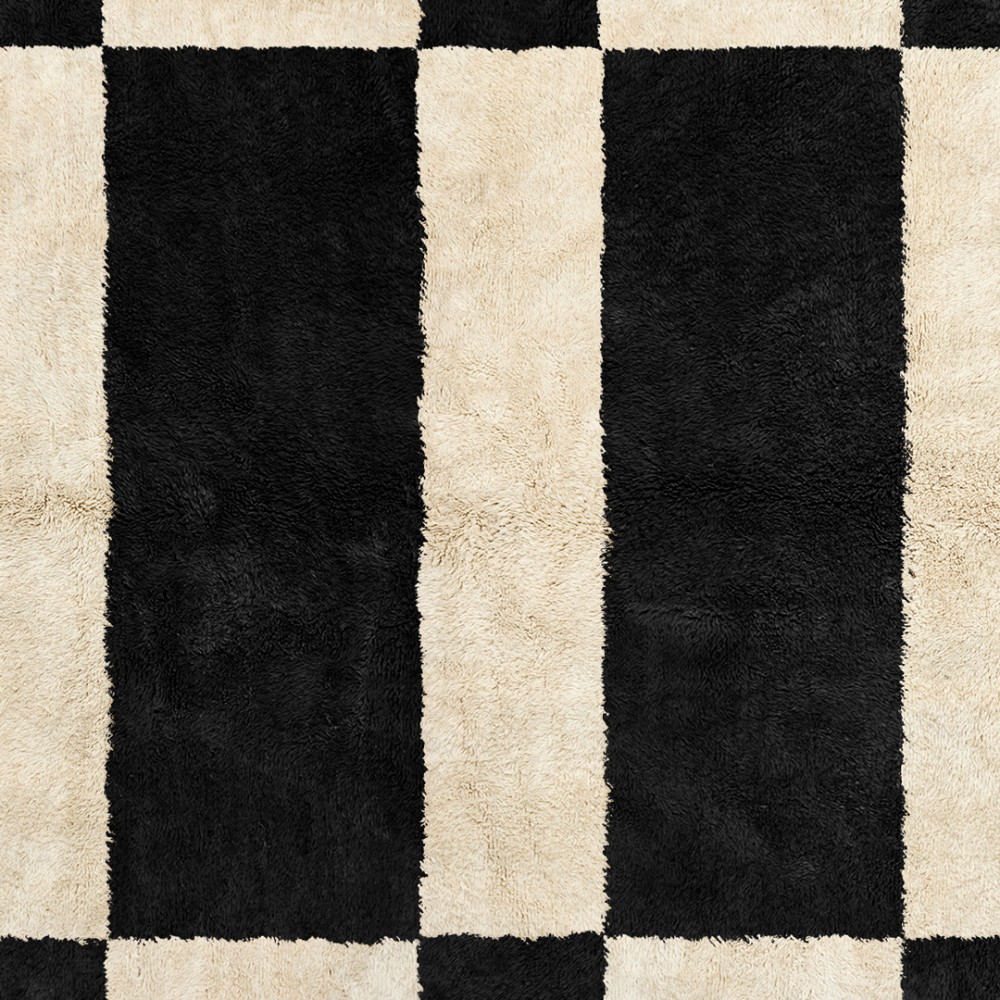 Taking Main Stage: Black Moroccan Rugs as Centerpieces

Black is an excellent background color, but it also stands out on its own, begging to be noticed. A black centerpiece draws all eyes to it as it makes its own bold statement, distinguishing itself from the rest of your room. Black Moroccan rugs can be just as daring, with patterns and designs that define the space they occupy.

Black on its own is a powerful color that absorbs all other colors. It doesn't just make a statement; it compels the observer to look. Black boho rugs entice you into a room and transport you there. Place one near your barstools in your kitchen to deter intruders by enticing them to sit down.

Embrace the Utmost Texture With a Black Moroccan Rug

Black Moroccan rugs can deceptively conceal thick, shaggy textures, causing you to sink into a plush depth as you walk across them. The element of surprise enhances the sense of touch on a black area rug. Materials are important! Wool rugs, for example, provide the ultimate foot lounge as you walk down the hall, through the dining room, or into bed. You may even forget why you got out of bed in the first place.

Moroccan shag rugs, such as black shags or soft braided black boho rugs, can make your floor appear larger, the rug appears softer, and the experience more luxurious. Pair the rug with sleek, modern furniture or a thin glass table to highlight its depth and texture.

Contemporary, Minimalist Black Moroccan Rugs Make a Good Feng Shui

A busy, over-the-top pattern will disrupt the room's simple vibes in a contemporary or minimalist style. Maintain the balance and feng shui of your room while incorporating the rug. The black Moroccan rug can add warmth to a room without being overpowering or distracting. Berber Rugs with simple patterns or designs can also help to lighten the mood.

Because it is the conglomeration of all the colors of the rainbow, black is the color that represents wisdom in feng shui. Because of its depth and ability to connect other elements as well as bring life to a space, it is also associated with water. In feng shui, black area rugs should be used sparingly to represent simplicity and wisdom.

In a room, black absorbs energy, particularly negative energy. Black accents, such as black boho rugs, are recommended by feng shui practitioners.

Black Moroccan Rugs: A Must-Have for Your Home Decor

Black Berber rugs are like gold jewelry for the rest of your room: they know how to bring out the best in everything else. Small black runner rugs or black area rugs complement your hallway furniture or a spot near the fireplace in your living room. They know how to take an unfinished space and make it look finished.

Boho Black rugs, on the other hand, serve as finishing touches rather than neutrals in a room. They're the icing on the cake, the whipped cream on a hot chocolate, or the gravy on mashed potatoes.

Black Moroccan Rugs Can Be Found at Babakech Rugs!

Babakech Rugs has a large selection of black boho rugs in a variety of designs, patterns, and textures to meet all of your design needs. Black Berber rugs are perfect for adding a bold statement, the ultimate accessory, or a simple neutral background to any room.